Co-op Connections® is a program that Southern Pine offers as part of its membership benefits. Co-op Connections is a value-added, card-based program that allows members of Touchstone Energy Co-ops, like Southern Pine, to receive discounts on products and services from participating local businesses. And the best part of all . . . the Co-op Connections card is completely free of charge! 

Simply show your Co-op Connections card to any participating business and you'll automatically receive the discount. You'll know participating businesses by the Co-op Connections sticker displayed in their window. 
Here's what you'll get with your Co-op Connections card:
•  Great discounts on products and services from participating businesses in your community.
•  Discounts on prescriptions at participating pharmacies.
•  Access to national and regional pharmacy chain stores. Search online to find discounted prices on prescriptions at  www.rxpricequotes.com and participating locations at www.locateproviders.com. You'll also get great discounts with national chain such as Land's End, redEnvelope, Alamo, Office Depot, Drury Hotels, Orbitz, etc.
Here's all you have to do: 
°  Log on to www.connections.coop for a list of national participants. Most national discounts will be in the form of online discount offers only.
°  Log on to www.southernpine.org to view a current list of participating local businesses and discount offerings.

Since the beginning of Southern Pine's Co-op Connection program, members have saved many thousands of dollars on prescriptions and other purchases. Be sure to use yours and save money whenever possible. Together we can save!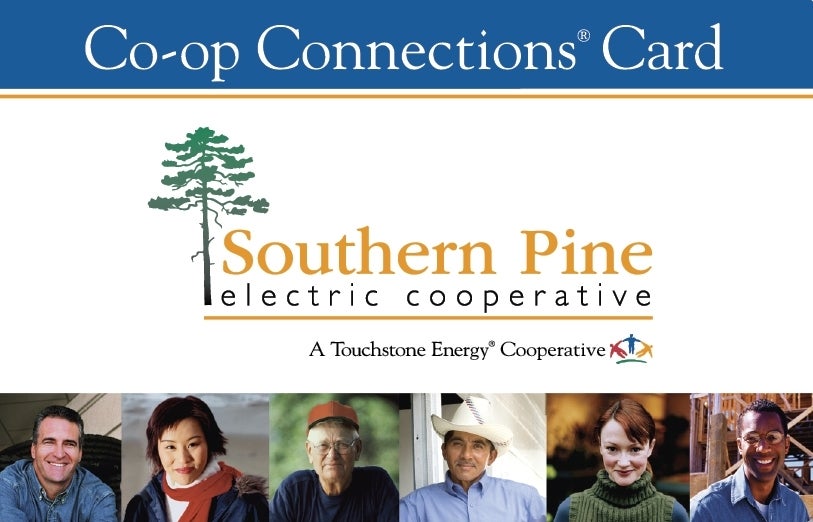 Participating Businesses:
Affordable Security & Protection-Mobile-go to www.asapal.com for discounts

Affordable Security & Protection-Mobile-Free basic alarm equipment and installation.  Waive $99 activation fee and $5 discount on monthly monitoring.

Alabama Fireworks-Brewton-10% off any $50 purchase or more

ALCO Glass-Brewton-5 % to 10% discount dependent upon services rendered

Airport Sports Center-Monroeville-10% off all parts, accessories and repair work

A2Z Realty- Frisco City-Free termite inspection with purchase of a home thru A2Z Realty  

Atmore Appliance-Atmore-5% off purchase of appliance over $399; 5% off purchase of push or riding lawnmower

Baldwin Gulf Coast Pest Control-10% off pest control service agreement,1 time service or a  termite treatment

BD&S Services-Monroeville-10% discount on any residential service

Bonehead Boots Brewton-$5 off purchase of $75 or more (excludes sale items)

Canoe Furniture Sleep Shop Atmore-10% discount with card

Christine's Beauty Shop Flomaton-Buy15 tanning visits for $25, get $5 off

Country Flowers & Gifts-10% off regular priced merchandise, excludes sales

Creamer Dozer Service-Brewton-5% off any purchase

D & D Furniture-Frisco City-Minimum of 10% off all mattresses

D G & K Wild Game Processing-Brewton-Deer burger $2.00 off per 25 pounds

Danielle's The Nail Shop - Atmore $3 off any service over $20

Farmers Co-op Market-Frisco City-10% off regular priced, in-stock Carhartt clothing

Frisco Tire & Service-Frisco City-10% off oil changes

Fun Time Jumps-Evergreen -$10 off any inflatable slide rental

Helton Service Center-Atmore-Free scope mounting with purchase of any scope

Hutcherson Jewelers-Monroeville-15% off regular priced merchandise

James Brothers Furniture East Brewton-10% off all cash and carry storewide

Jernigan Nordmeyer-Brewton-Buy three oil changes, get fourth free

Johnnie's Cleaners- Flomaton-10% discount on dry cleaning items; excludes bedspreads & quilts

Jus Do Signs, Graphics & Gifts-Brewton-Save$5 for every $25 you spend

Kenny's Motor Sports-Brewton-10% off all accessories

Main Street Fashions-Uriah-10% off regular priced purses & Yellow Box Shoes

Novus Glass-Atmore-10% off windshield repair or any related auto glass service

Perfect Touch Quality Car Wash & Detail-Brewton -$5 off car wash or $5 off labor for mechanic work

Rowland's Tire-Flomaton & Atmore-$25 off a new set of tires

S & K Communications/RadioShack-Century-$5 off  SouthernLinc  phone on new  activations  or upgrades

Shear Delite –purchase tanning package, get three visits free

Southcoast Communications/Sprint Nextel Dealer-Buy any phone prepaid or contract, get free accessories

Southern Treasures-Century-10% off cash or check purchase

The Farm Center East Brewton-10% off John Deere lawnmower blades

The L House Photography-Brewton-Free 8" x 10" print with paid sitting fee

The Sandwich Deli-Century-One free ice cream with purchase of meal. Limit one per card per visit

Thomas Radiator & Welding-Brewton-2% off any in-store purchase

Tri-City Ledger Flomaton-One free classified line ad per person